Last Updated on December 15, 2022 by James Redding
Copper gutters can be a beautiful addition to your home. While the gutter material starts out with a metallic, reddish gold hue, it eventually forms a patina that turns into a beautiful, deep dark brown and/or green hue depending on the elements it is exposed to in the air.
This patina is what gives copper gutters their vintage or antique look, which can make their installation an ideal finishing touch for certain homes. It's also a great way to increase your home's resale value. But are copper gutters the right fit for your home? Let's examine the facts.
Copper Gutters in Charleston, SC
Appearance and Durability of Copper Gutters
Copper gutter systems are the perfect balance of form and function when it comes to exterior home design. Not only are they extremely durable, but they can also transform a house into an attractive centerpiece in any neighborhood. Installing copper gutters can give any home a stately, unique appearance that could simply not be achieved with less expensive material choices.
They look especially beautiful on high-end or historic homes due to their classic yet timeless aesthetic. However, copper gutter systems can provide a warm, inviting look to any home—especially those with brick, stone, stucco, wood, or slate exteriors. As such, a copper gutter system is the perfect option for homeowners who want to stand out and show off a unique, upscale curb appeal.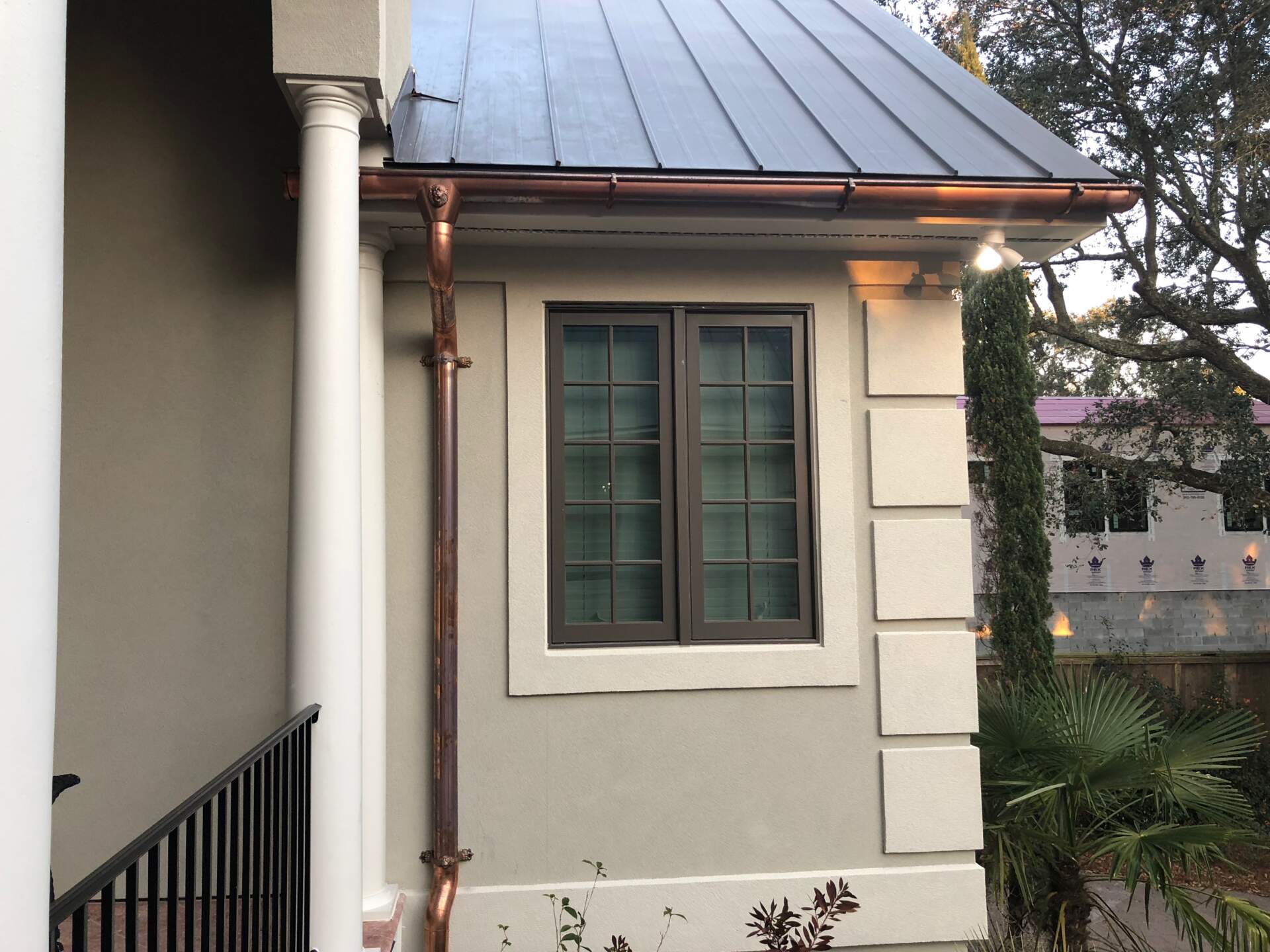 Maintenance Considerations
While other materials may require more maintenance over time, copper gutters are incredibly durable and low-maintenance. Copper is resistant to both corrosion and rusting which makes them especially long-lasting in certain climates—particularly those with higher levels of humidity and salt in the air like here in Charleston.
This makes them an ideal choice for homes in coastal or tropical climates. Homes along the coast of South Carolina, for example, can benefit from the durability of copper gutters. Even here in North Charleston, the salt in the air from the Atlantic Ocean can be damaging over time to other metals. But not copper—making copper gutters a great choice for coastal homeowners looking for a low-maintenance, attractive, elegant gutter system.
Cost of Copper Gutters
The cost of installing copper gutters varies depending on factors such as size (i.e. perimeter length), installation requirements (i.e. how many corners there are), and other factors specific to your property. However, even though they may have a higher upfront cost compared to some other materials like aluminum or vinyl, it's not uncommon for copper gutters to last well over 100 years.
That means you won't have to replace the gutters down the road as you do with other materials. Plus, you get the added benefit of increased resale value from adding this unique accent to your home exterior.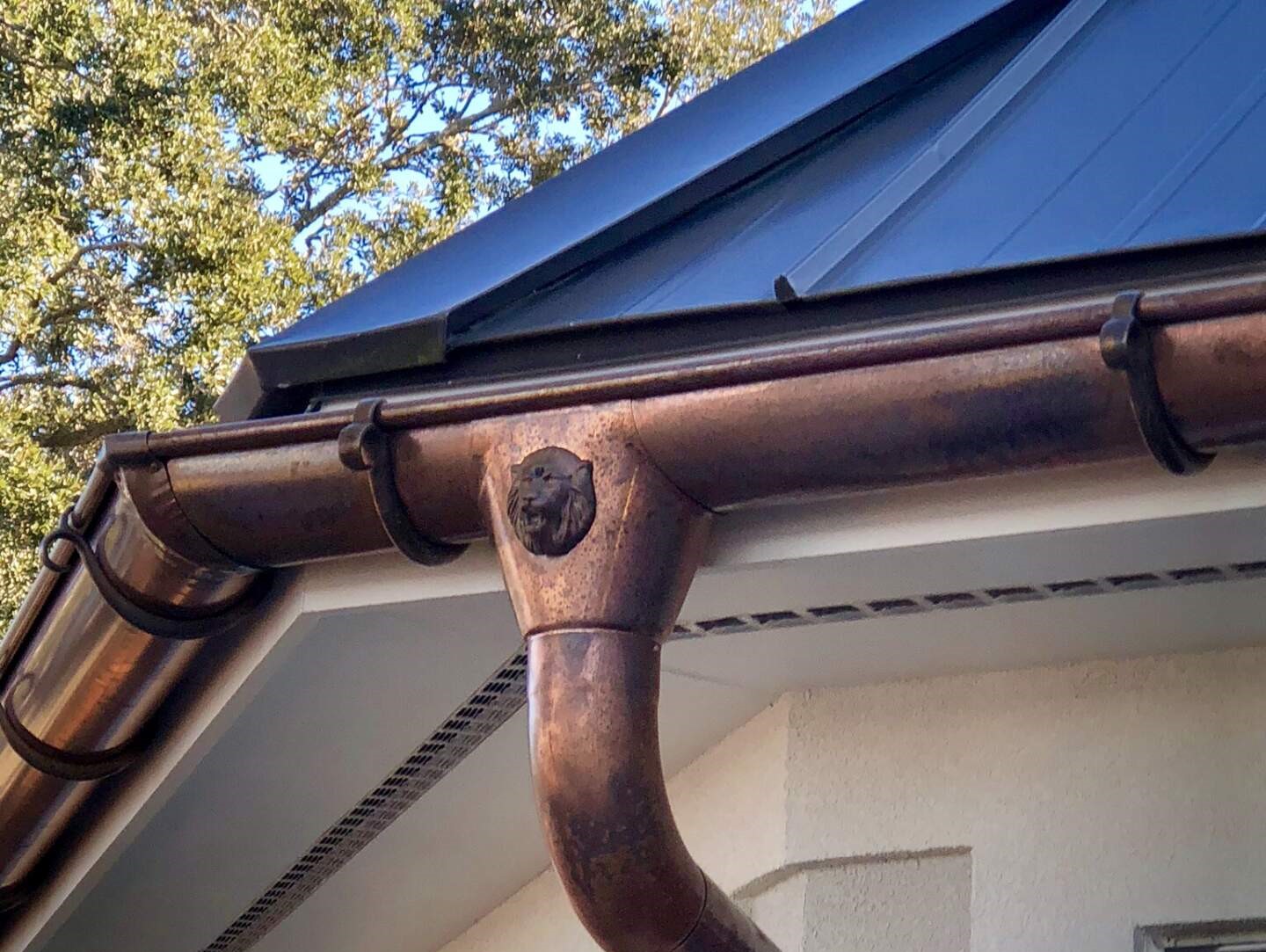 All About Patina (And What it Means for Your Gutters)
Patina is a beautiful weathering effect that occurs on copper surfaces when they are exposed to the atmosphere and other various elements, such as water. You've probably seen this on copper coins or copper-accented buildings. (The Statue of Liberty, for instance, was originally a red-gold color, but is now covered in a beautiful blue-green patina that shines as the light hits it.)
This effect, which is visually striking due to its range of colors, is created over time through a process that occurs naturally on copper. When exposed to outdoor elements, copper begins oxidizing, forming the beautiful and unique patina that is coveted by artisans, artists, and homeowners alike.
Patina develops over time based on the air it is exposed to. Moisture encourages copper to turn brown, while salt and acid encourage it to turn green. Here in Charleston, the humid, salty air near the coast creates a patina that is more green than what you would see in dryer inland climates. We're also fortunate enough to be surrounded by beautiful, historic, patina-covered copper roofs and building accents in South Carolina, making it easy to get an idea of what your home can look like with copper.
Copper patina gives an object or sculpture a unique beauty, from the beautiful blue-green color that often greets us to more subtle nuances in hue with every different piece. It's no wonder why this material has been so widely embraced and admired both in building and the arts throughout history.
Historic structures like churches and stately homes often feature copper accents with a patina finish to give them an elegant, timeless look. Copper gutters do the same thing on a homeowner's property.
When you first install copper gutters, they can give off an antique or vintage look right away. But as time passes, the patina will deepen and create a unique character all its own. Since they last so long (with a common life expectancy of well over a century), they are a great investment for those looking to add character, value and style to their home.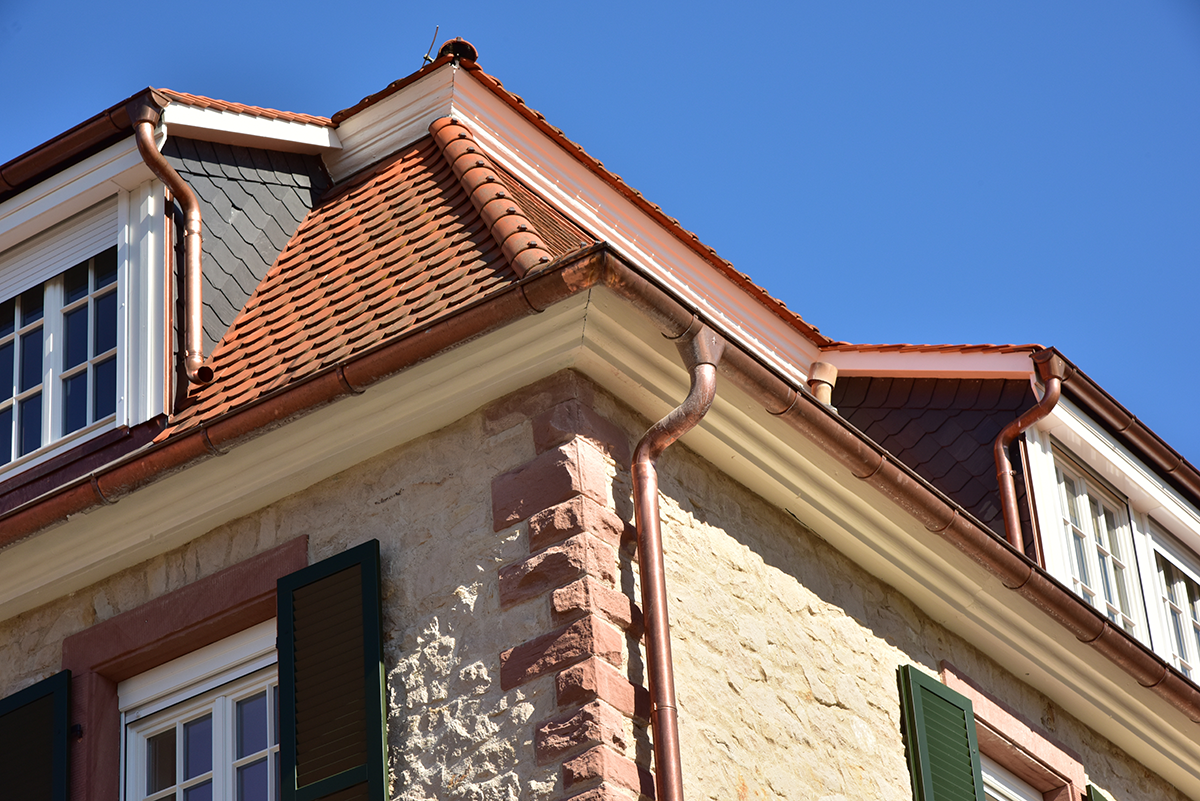 The Bottom Line: To Copper or Not to Copper?
Although copper gutters can be striking on any home, they work best on historic and high-end homes.
Copper gutters may cost more upfront, but in the long run they are a great investment that can last for over a century.
They patina over time, creating a unique, timeless character and look that adds to your home's beauty and resale value.
They're a great choice for coastal homeowners, as their low-maintenance and corrosion-resistant properties make them perfect for withstanding the salty, humid air. (And turning it into a thing of beauty!)
Copper works well as a material for both residential and commercial gutter systems.
Sections of copper can be soldered together to create a seamless look for your gutter system. (Learn more about seamless gutters here)
Copper gutters are easier to maintain than other materials and do not require frequent repairs. They can be combined with gutter protection systems (i.e. leaf guards) for even lower maintenance.
Copper is a green building material, as it is 100% recyclable and does not produce any harmful emissions when in use.
Copper gutters are incredibly durable and can withstand the elements better than most other materials.
Copper gutters are already aesthetically pleasing upon installation, but they can take a few years to achieve their desired patina finish. However, most people find that the development of the unique patina is one of the most interesting and appealing parts of having a copper gutter system installed.
Copper can add a touch of timeless elegance and sophistication to any home. While copper gutters can be more expensive upfront, consider it an investment in your property's value that will pay dividends for decades. If you'd like to learn more about installing copper gutters in South Carolina, consider Holy City Gutterworks in Charleston.
Conclusion
Copper gutters are the perfect balance of form and function. Their durability is incomparable, and with their sheer beauty, you not only get a functional asset that will last for years but also increased curb appeal. Installing this type of gutter system ensures rainwater runoff is properly managed while you enjoy the timeless beauty of copper on your property.
Installing a copper gutter system on your home can create a beautiful curb appeal that will last for years to come. The gold metallic starting color eventually forms into a patina that has an antique or vintage appearance—something that many homeowners appreciate when looking for an aesthetic finish to their exterior design projects.
Additionally, these systems are extremely durable and low maintenance so you won't have to worry about replacing them as often as some other materials like vinyl or aluminum gutters would require. If you're considering updating your home's exterior design with something unique but timeless then copper gutter systems could be the right solution for you.
Holy City Gutterworks are experienced copper gutter installation craftsmen in Charleston, who can help you with the entire process. At our core, we're artisans—if you're trying to decide whether copper gutters are right for your property, we'll give you the information you need with no sales pitch. Give us a call at (843) 352-9269, or click here to email us and get a quick estimate.