Last Updated on April 4, 2023 by James Redding
South Carolina's Stormy Situation
South Carolina is no stranger to tropical storms and hurricanes—particularly the six counties along the coast, including Charleston County. With its humid subtropical climate, the great Charleston area already experiences significant rainfall throughout the year, particularly during the summer months from June to September.
But in addition to that, South Carolina ranks as the 5th most hurricane-prone state in our nation. And in 2022, Charleston ranked as #11 on the Insurance Information Institute's list of metropolitan areas most at risk for storm surge and hurricane wind.
While major hurricanes are relatively rare here, South Carolina experiences a land-falling hurricane roughly once every seven years. As tropical storm systems make their way inland, they gradually lose strength, but they can continue to produce heavy rain and strong winds that can impact both coastal areas and the interior regions of the state.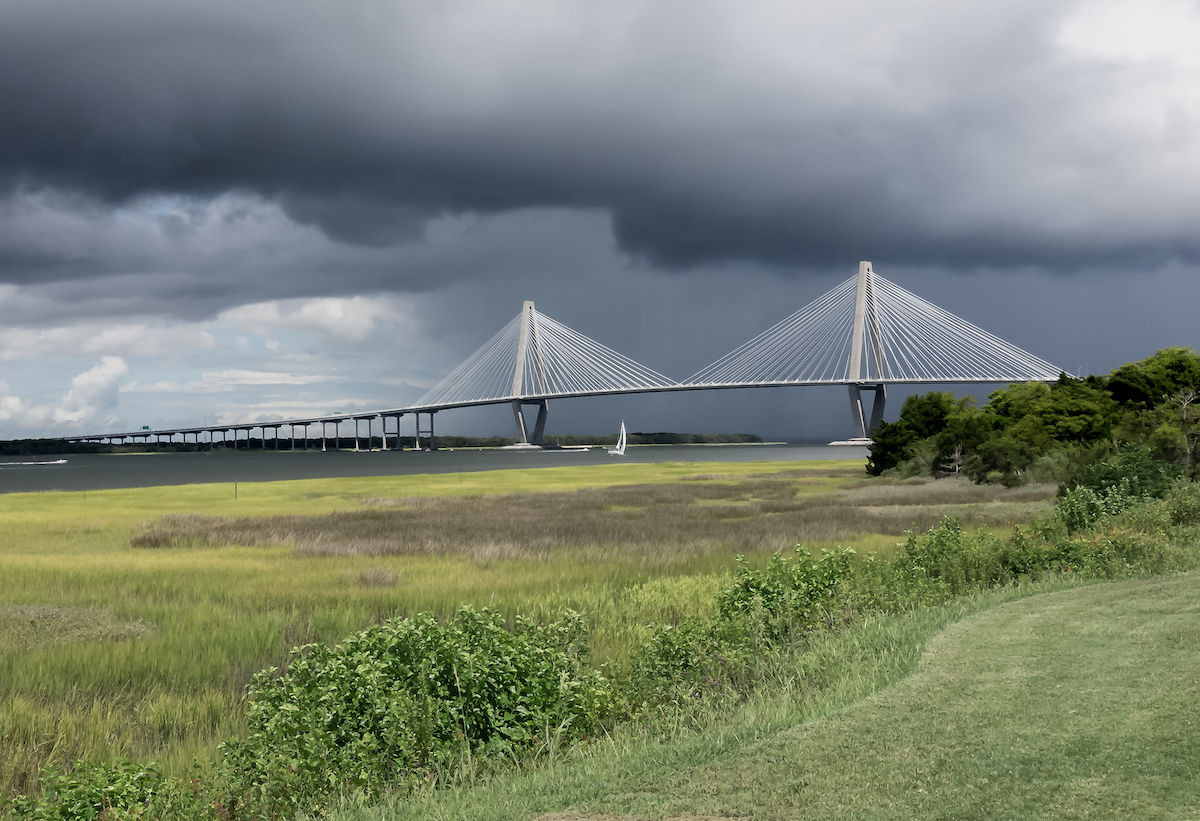 In such a storm-prone region, it's even more essential for residents and businesses throughout the greater Charleston area, the Lowcountry, and the Coastal Zone to stay prepared for the potential effects of hurricanes and tropical storms.
One often overlooked—but critical—aspect of storm season preparation is ensuring that your gutters are in good condition and functioning properly.
The Importance of Proper Gutter Function
Your gutters play a crucial role in protecting your home or business from the heavy rainfall accompanying these storms. A well-installed gutter system captures the water flowing off your roof and channels it safely away from your property, preventing seepage into your home or business.
Professionally-installed, high-quality gutters can deliver top-notch performance even during torrential rainfall, redirecting gallons of water for extended periods of time. Proper gutter installation and maintenance is essential to ensure optimum performance when it's needed most.
Risks Associated with Inadequate Gutter Preparation
Lack of proper gutter maintenance can lead to serious issues during tropical storms.
If your gutters are dirty and clogged with debris and sediment, their drainage capabilities become compromised, putting your property at risk for water damage. Additionally, the added weight and wind-induced movement during storms can cause clogged gutters to collapse entirely.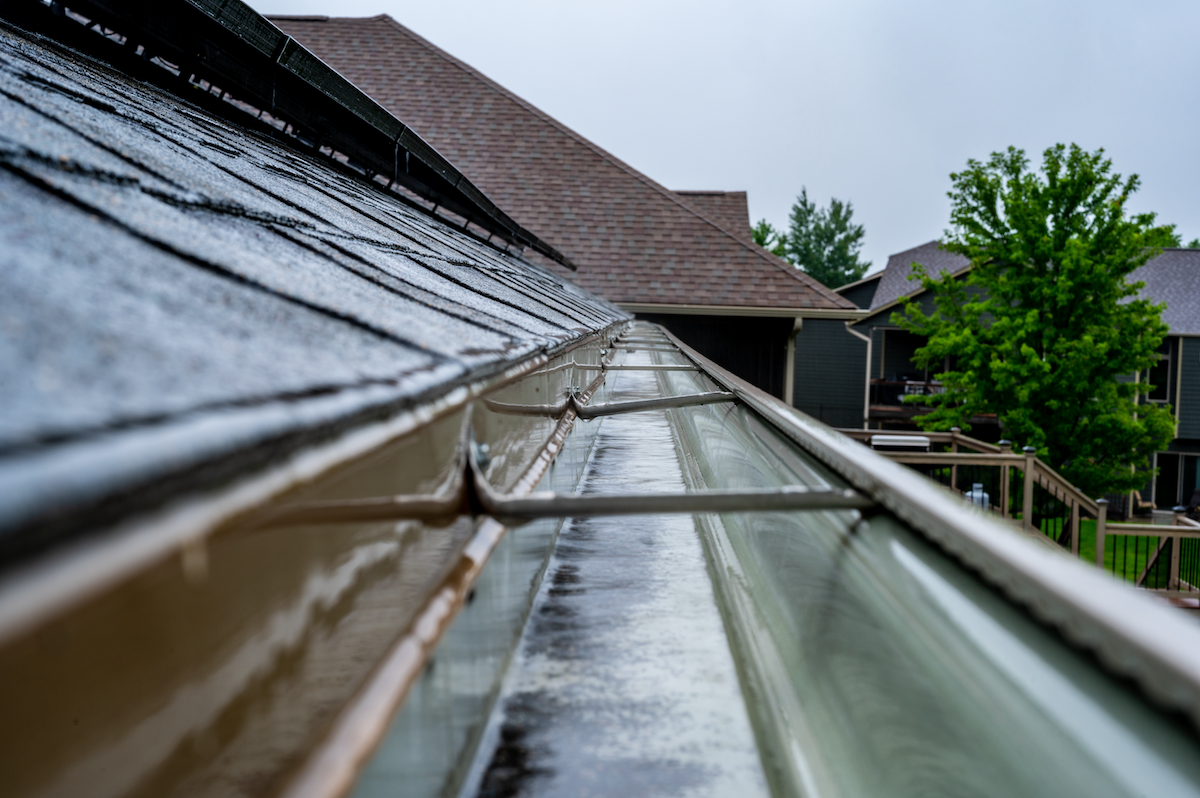 Selecting durable materials for your gutters, such as aluminum, steel, or even copper, provides added protection against the harsh external elements common during tropical storms. Otherwise, flying debris is more likely to cause significant damage, which can lead to major dents, cracks, holes, and leaks in your gutter system.
When gutters fail during a storm, the consequences can be far-reaching for your home. Water damage becomes a significant concern as overflowing or compromised gutters are unable to properly direct rainwater away from your property. This can lead to issues such as flooding, foundation damage, and even structural problems.
Furthermore, excess water near the base of your home may result in landscape erosion and the infiltration of moisture into your basement or crawl space, promoting mold and mildew growth.
Beyond the immediate threat of water damage, failed gutters can also pose safety hazards, as just like any other part of your home's exterior, loose gutters or components can cause additional damage.
In light of these potential issues, it is essential for homeowners to prioritize gutter inspection and maintenance, and invest in durable materials like copper and aluminum that can better withstand the challenges presented by tropical storms and hurricanes in South Carolina.
Preparing Your Gutters for Charleston's Tropical Storm Season
Last year, and for a number of years in a row, the National Oceanic and Atmospheric Administration (NOAA) has predicted above-normal hurricane activity. And while they have yet to release their forecast for the 2023 season at the time of this writing, it's wise to be prepared for the possibility of another active year.
Again, while major hurricanes hit Charleston with relative rarity, storm seasons with above-average activity can still produce storm systems that produce high winds and torrential rain. In any case, it's always good idea to take preventive measures to protect your gutter system and home from heavy rainfall and storm-related damage.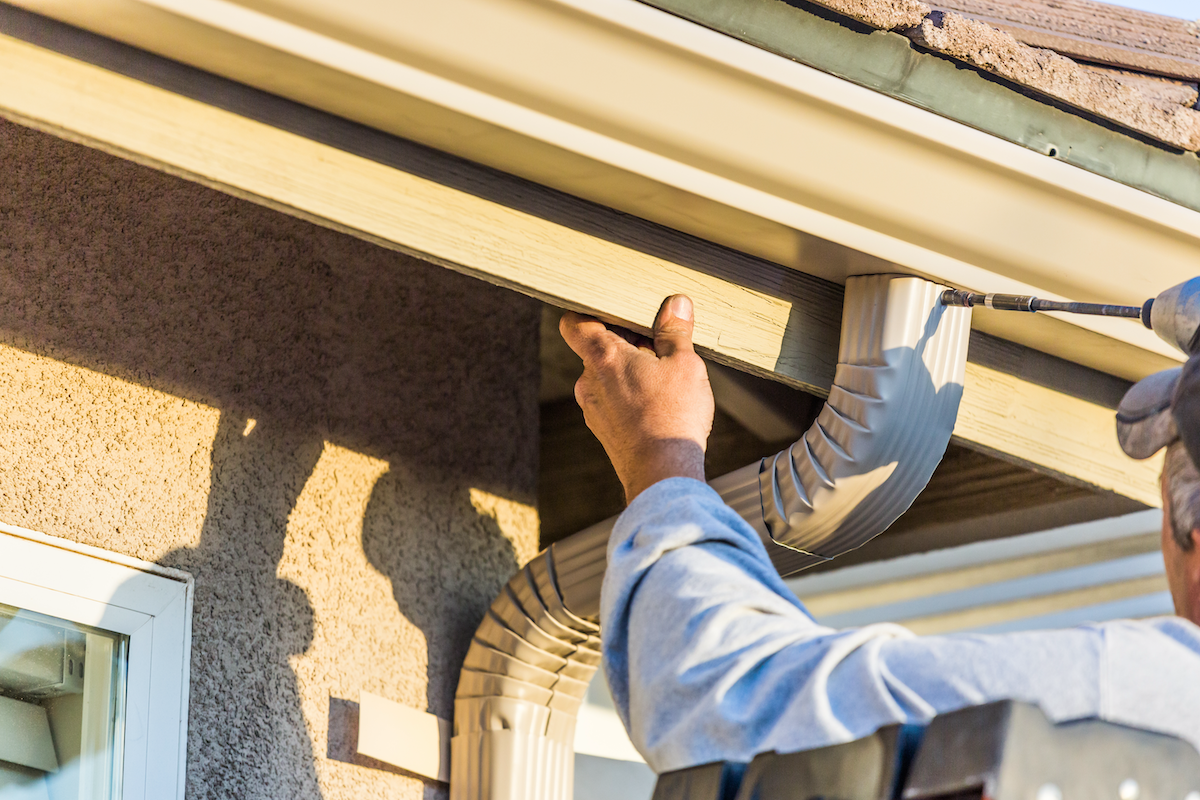 Here are some essential steps to ensure your gutters are ready to face Charleston's tropical storms:
Regular cleaning: Keep your gutters free of debris, leaves, and sediment by scheduling regular cleaning, especially before the stormy season. This helps maintain proper water flow and minimizes the risk of clogs and overflow during heavy rainfall.
Inspections and repairs: Inspect your gutters for any signs of damage, such as leaks, cracks, or loose connections. Hire a reputable, local gutter repair company to address any issues promptly to ensure your gutters remain functional during storms.
Gutter guards: Consider installing gutter guards to prevent debris accumulation, reducing the frequency of cleaning and providing an extra layer of protection during storms.
Reinforce and secure: Make sure your gutters are securely fastened to your property. Reinforce any weak connections if necessary, as strong winds can cause them to become dislodged.
Choose the right material: If you're installing or replacing gutters, opt for durable materials like aluminum, galvanized steel, or copper gutters for added resilience against the elements. These materials provide better long-term protection against storm damage compared to vinyl gutters.
Stay Prepared, Stay Safe!
By taking the necessary steps to maintain your gutters, you can protect your Charleston home or business from the heavy rainfall and strong winds characteristic of tropical storms and hurricanes. Remember that preparing your home or business for storms is key in ensuring the safety of your property and loved ones.
By taking preventive measures, you can significantly reduce the risk of damage to your property, even if the strongest storms may still pose some challenges. By staying informed and proactive, you can minimize the potential impact of these storm systems on your gutter system and, in turn, your home. Ultimately, the peace of mind gained by being well-prepared for storm season is invaluable, allowing you to face whatever the weather brings with greater confidence.