Last Updated on March 8, 2023 by James Redding
For those with a discerning eye for historic architecture and a penchant for timeless aesthetics, copper gutter installation is a natural choice.
And if you live in the Charleston-North Charleston area—or even if you've ever visited here in the past—it may come as no surprise that copper gutters and The Holy City have some important things in common:
Gutters made out of copper have been used for centuries in building construction, and one of the things our area is known for is its rich historical architecture dating back to the colonial era.
Installing copper gutters can add an elegant charm and timeless aesthetic to a building, just as Charleston is known for its beautiful, well-preserved historic buildings and charming streetscapes.
What's more, copper is known for its durability and resistance to corrosion, which is of particular importance when you're talking about buildings in humid, salty environments that experience frequent rainfall—like here along the South Carolina coast.
The Changing Colors of Copper Gutters
As mentioned, copper is highly resistant to corrosion, making it an ideal material for gutters in coastal regions like Charleston, where humidity and saltwater can wreak havoc on lesser metals.
But you don't have to live along the coast to appreciate the beauty of copper gutters. Copper gutters are a popular choice for homeowners and business owners alike due to their extreme durability and lifespan, as well as their unique aesthetic appeal.
They have a long lifespan, lasting up to 100 years or even longer with proper installation and maintenance.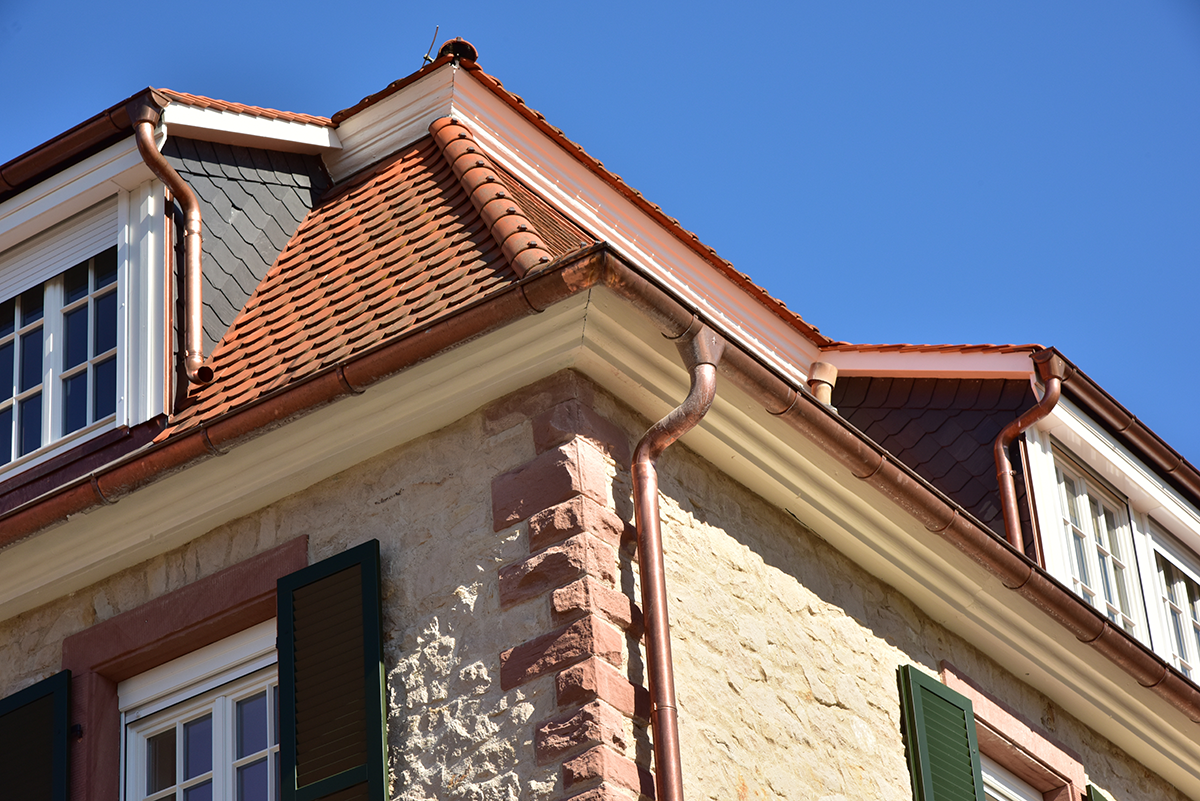 This longevity is a testament to the durability of copper as a building material, and it's one of the reasons copper gutters are often considered a long-term investment as far as property improvements.
As mentioned above, as copper ages it can undergo a natural process called oxidation that causes its color to change over time.
What is Oxidation?
Oxidation is a chemical reaction that occurs when copper is exposed to air and water. Over time, the copper molecules react with oxygen in the air and moisture to form a layer of copper oxide on the surface of the metal.
This layer of oxide can vary in color from browns to vibrant greens and blue-ish greens, depending on the conditions of the environment. Copper may also go through more than one color change, turning brown before it begins to develop a greener color.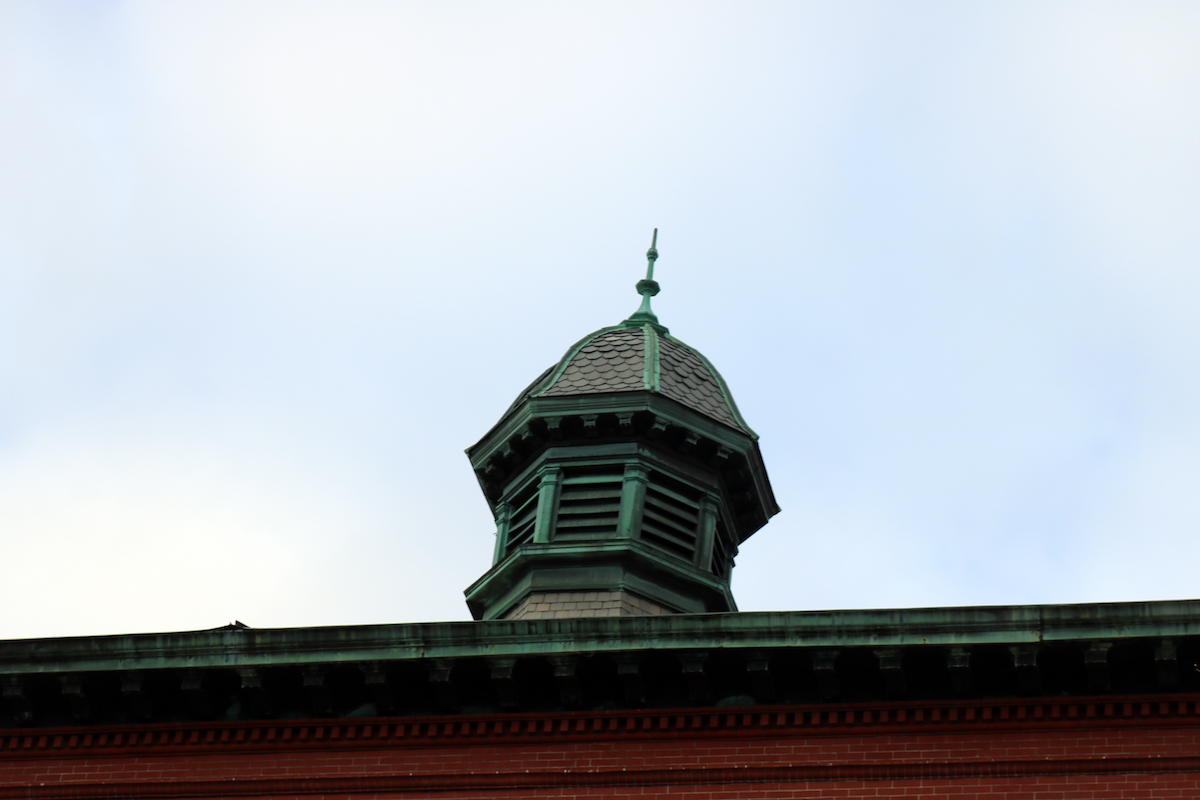 An often-cited example of this color change is the Statue of Liberty. As Lady Liberty's copper exterior was exposed to the elements over time, it underwent the same type of natural process of oxidation that copper gutters do—which resulted in the beautiful, iconic blue-green hue that we all recognize today.
How Oxidation Changes Copper Gutters Over Time
This color change is known as patina, and it is a natural process that occurs with all objects made out of copper.
Patina is a desirable quality for many homeowners and business owners, as it can give copper gutters a unique, striking appearance that goes especially well with historic architecture and high-end homes.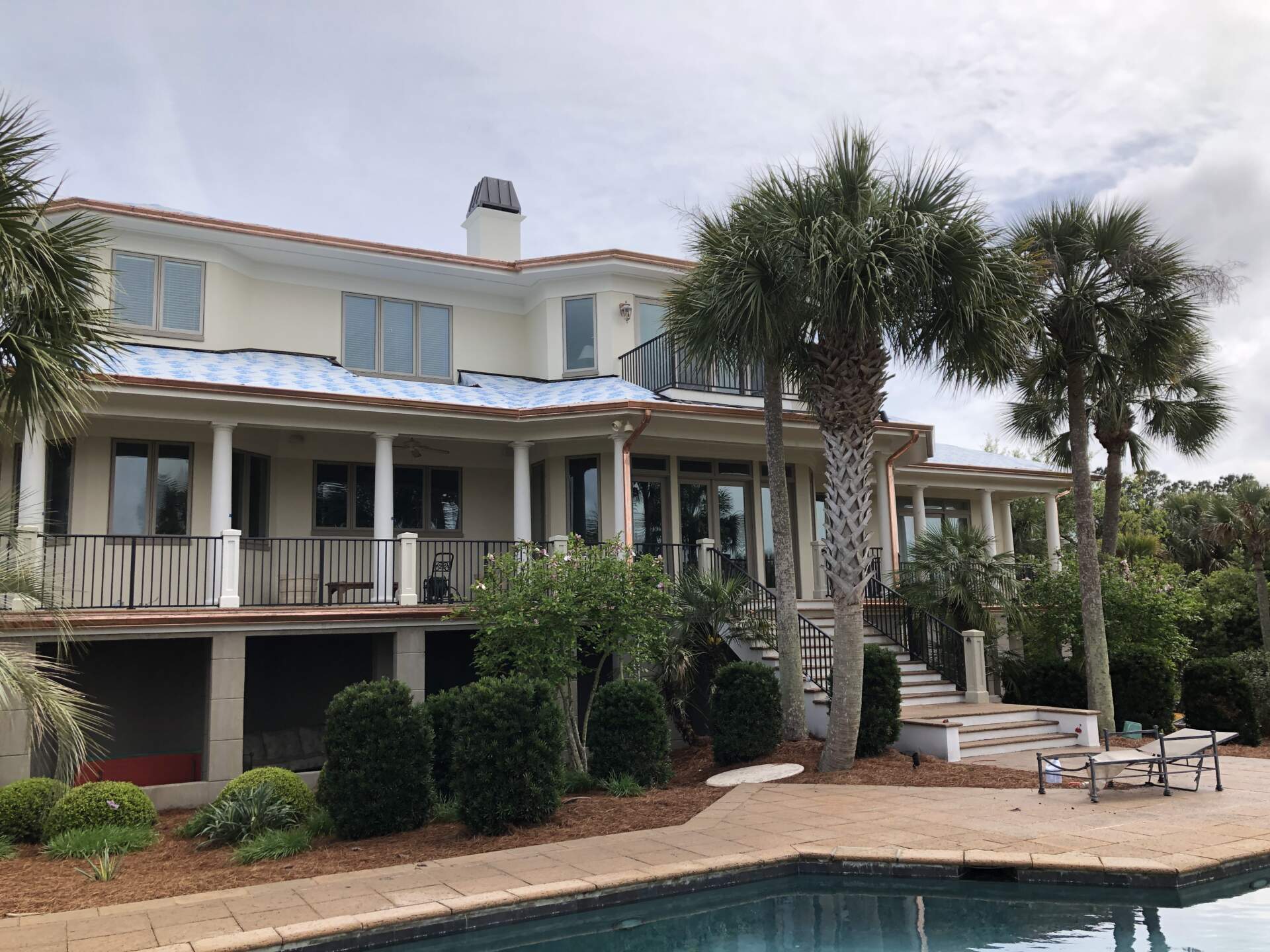 In places like Charleston, SC, where historic homes and buildings are abundant, the patina on copper gutters is often seen as an especially desirable feature.
Homeowners and business owners in the area may choose copper gutters for their ability to complement their home or building's historic architecture.
At the same time, they can enjoy the extreme durability and cost-effectiveness of gutters that can last for well over a century with proper installation and maintenance.
How Long Does it Take for Gutters to Patina?
The amount of time it takes for copper gutters to change color after being installed can vary depending on the conditions of the environment. In areas with high humidity and rainfall, such as Charleston, the process of oxidation may occur more quickly than in drier conditions. However, it still generally takes years following installation for copper gutters to develop a noticeable patina.
Can You Prevent Copper Gutters from Changing Color?
For those who prefer the original shiny appearance of copper, it is possible to greatly slow the oxidation process to maintain the bright, metallic look of the metal. This can be achieved through the use of special coatings or sealants, which create a barrier between the copper and the air and moisture that cause oxidation.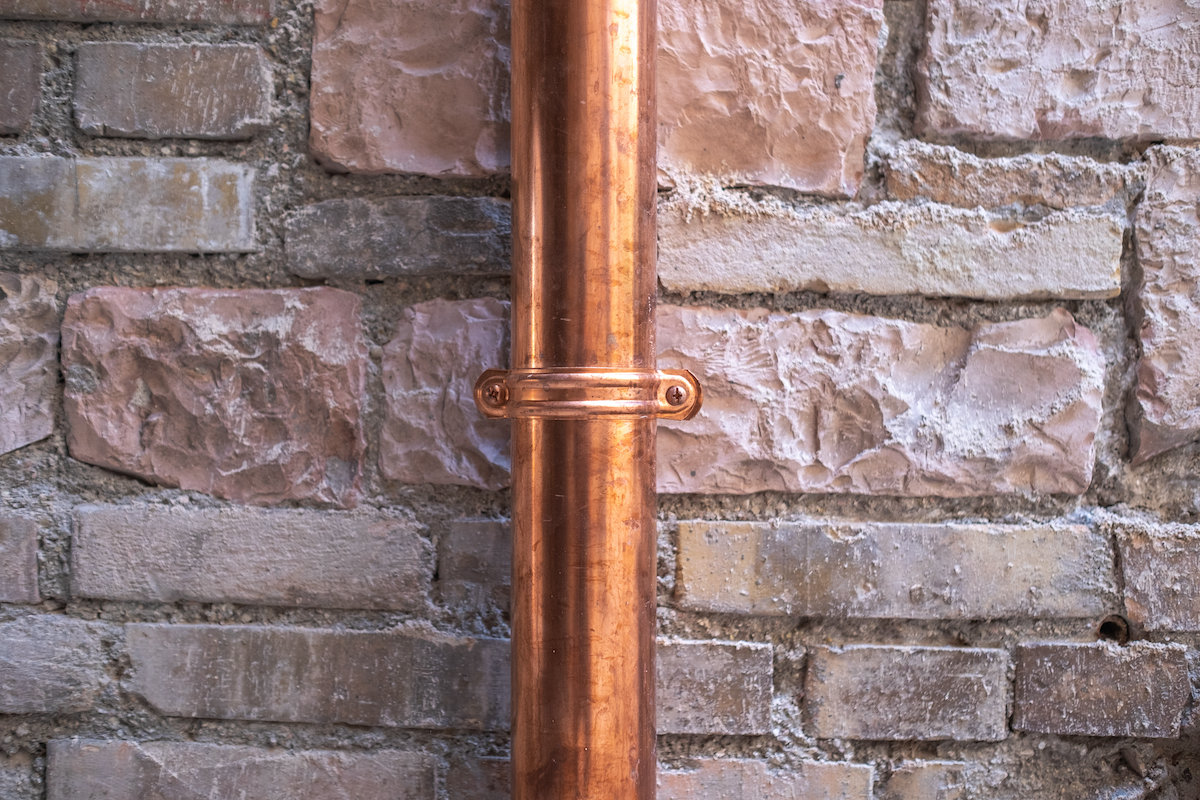 However, the majority of homeowners and business owners find the natural patina that develops on the gutters to be attractive, and prefer to let the process occur naturally. The unique coloration and texture that develops on copper gutters can add character and charm to a building, and many view it as a sign of quality and longevity. This chemical reaction is considered to be one of the advantages of installing copper gutters.
Are Copper Gutters Expensive?
It's important to note that while copper gutter installation may cost more upfront compared to other gutter materials, they offer long-term cost savings due to their durability and longevity.
With a lifespan of up to 100 years or even longer with proper installation and maintenance, copper gutters can provide significant cost savings in the long run, as they typically do not require repair or replacement as frequently as gutters made out of other materials.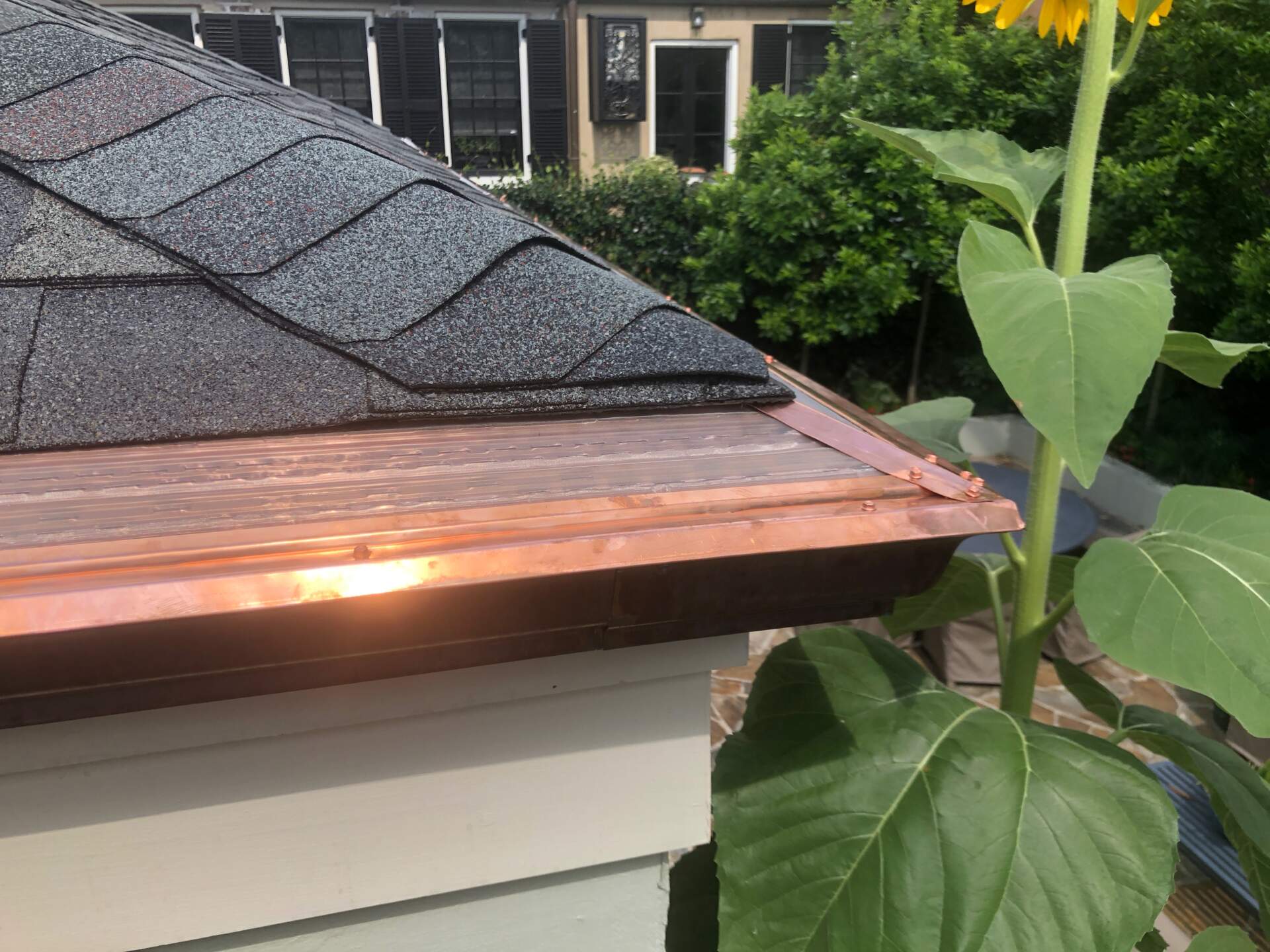 Conclusion
Copper gutters are an excellent choice for homeowners and business owners seeking a durable and aesthetically pleasing gutter system. The unique patina that develops over time is a desirable quality that complements historic architecture and provides a stately, rustic appearance that many consider to be strikingly beautiful.
While oxidation is a natural process that occurs with copper and may not be prevented entirely, it can be slowed down through the use of special coatings or sealants. However, most choose not to go this route because it's part of what makes copper gutters unique and timeless in the first place.
In either case, copper gutters are a long-lasting addition that can provide both function, protection, and beauty for your property for many years to come.
Holy City Gutterworks
If you're interested in installing copper gutters in the Charleston area, contact Holy City Gutterworks. We can help you select the perfect gutters for your property and provide professional gutter installation and maintenance to ensure that your gutters last for many years to come.
For more information, give us a call at 843-352-9269 – or click here to contact us.