Last Updated on December 26, 2022 by James Redding
Rain gutters and downspouts play an important role in diverting rainwater away from your property's foundation, roof, and walls. Here in Charleston, the rainy season often brings thunderstorms and heavy downpours, so it's important to have a high-quality gutter system in place that can stand up to the elements.
Did You Know: South Carolina has a 79.7% chance of being impacted by a tropical system each year? The hurricanes and tropical storms that hit the Charleston area from time to time make it essential to use a gutter material that can withstand years of powerful winds and rain.
But no matter where you live, the material you choose for your gutter system is a key decision that can have lasting impacts on your property's integrity.
When you're selecting a rain gutter system material for your home or commercial building, there are several factors to consider—including cost, durability, ease of installation, longevity, and aesthetics.
But with so many different types of gutter materials available, how do you know which one is right for your property?
In this guide, we'll explore the pros and cons of each of the most popular types of gutter materials available, including vinyl, aluminum, steel, and copper.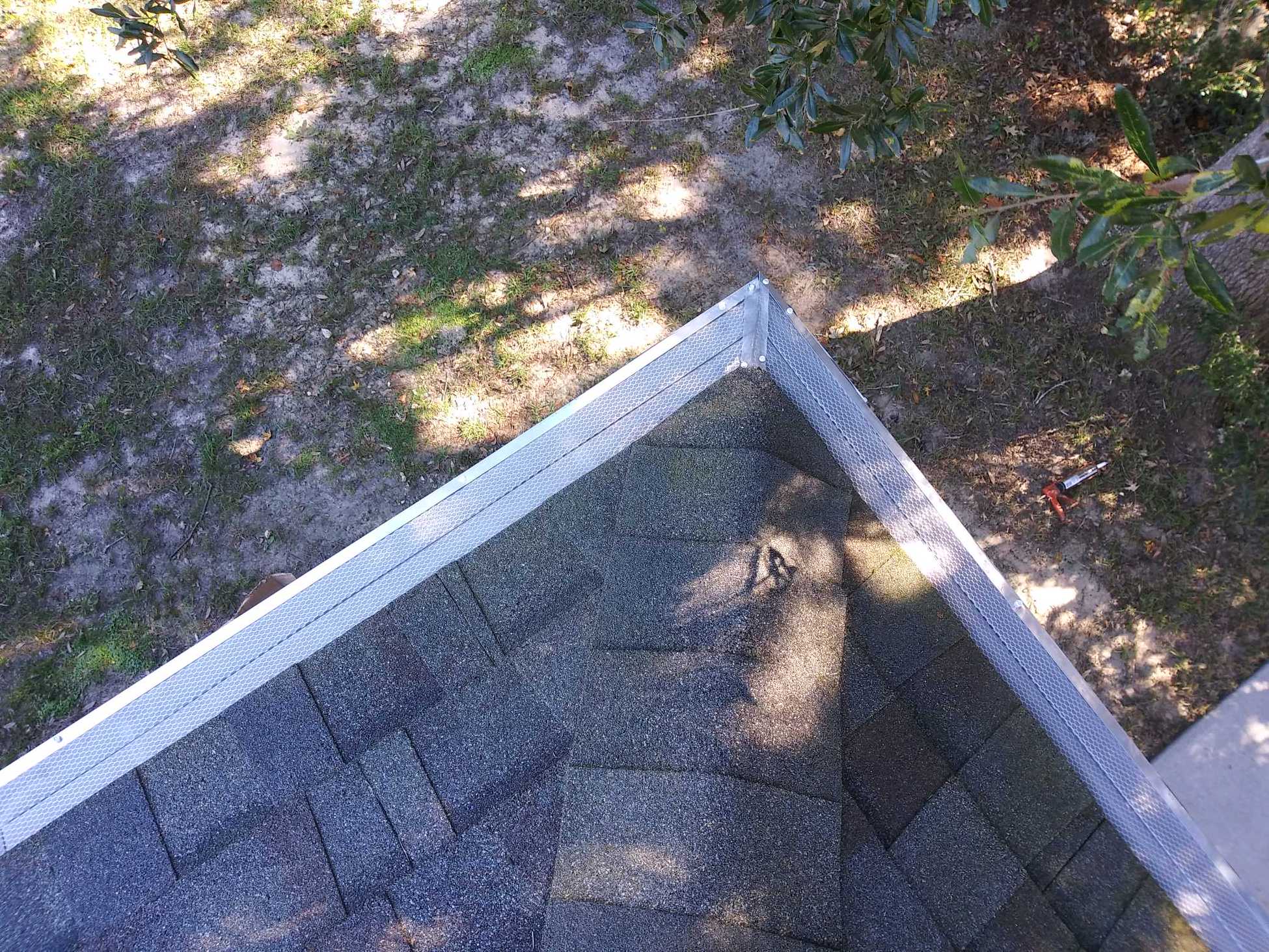 Vinyl Rain Gutters
Vinyl rain gutters offer a lightweight option that is relatively easy to install and maintain. However, they are not as durable as other types of gutter material. Vinyl gutters can crack or split due to extreme temperature fluctuations and are not ideal for areas prone to heavy storms or high winds.
Vinyl gutters have been a very popular choice for homeowners for some time, but in recent years, homeowners have been turning to other materials due to vinyl's lack of durability. On the plus side, they are usually the least expensive type of gutter material available. They also come in a variety of colors and styles so you can customize them to perfectly match your home's exterior décor.
Aluminum Rain Gutters
Aluminum rain gutters provide a lightweight option that is also very durable. Most aluminum gutters protect against corrosion due to a powder-coated finish that resists rusting.
Like the vinyl kind, aluminum gutters also come in a wide range of colors to match any home's style. Compared to vinyl, aluminum gutters generally last longer, but they are still prone to denting if hit by debris or branches during heavy storms. However, they are cost-effective and easy to install.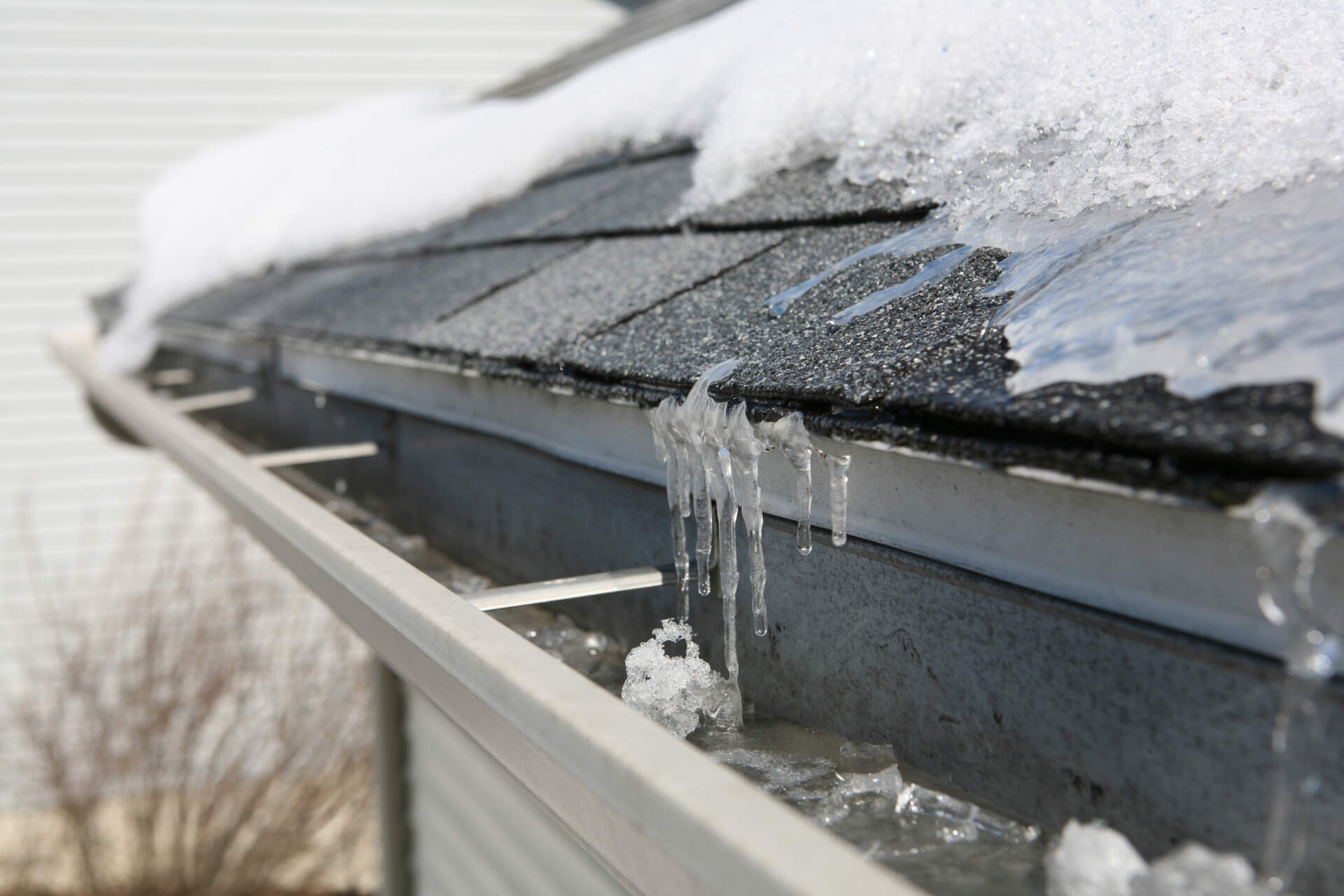 Steel Rain Gutters
Galvanized steel rain gutters are the heaviest type of gutter material and strongest, making them ideal for areas that experience heavy rains, strong winds, and other extreme weather conditions. Steel offers superior protection against corrosion thanks to its zinc coating which helps to inhibit rusting over time.
One downside, for some property owners, is their overall look—steel gutters don't look right on every home or business. However, pairing steel gutters with metal roofs can be extremely attractive and can add a touch of style to any home or business. Galvanized steel gutters require more specialized installation tools than other types of gutter material because they must be cut using specific metal-cutting tools instead of standard hand tools like snips or saws.
Copper Rain Gutters
Copper rain gutters provide a unique, yet classic look—one that has been used for centuries on stately homes, churches, and prestigious buildings all around the world. Their staying power is thanks to their timeless beauty and durability that can stand up against decades and decades of storms and wind, without losing their beauty over time like some cheaper materials. Copper gutters also develop a unique "patina" over time that adds to the appeal of this type of gutter.
Compared to other materials like aluminum, copper costs more upfront, but will pay for itself in the long run. It is also relatively easy to install thanks to being lightweight compared to steel, yet strong enough to hold up against high winds and heavy rains.
Copper gutters look right at home on traditional and high-end homes, and are worth it for those looking for a long-lasting solution that will stand out from the crowd. They may be the last gutters you ever need to buy.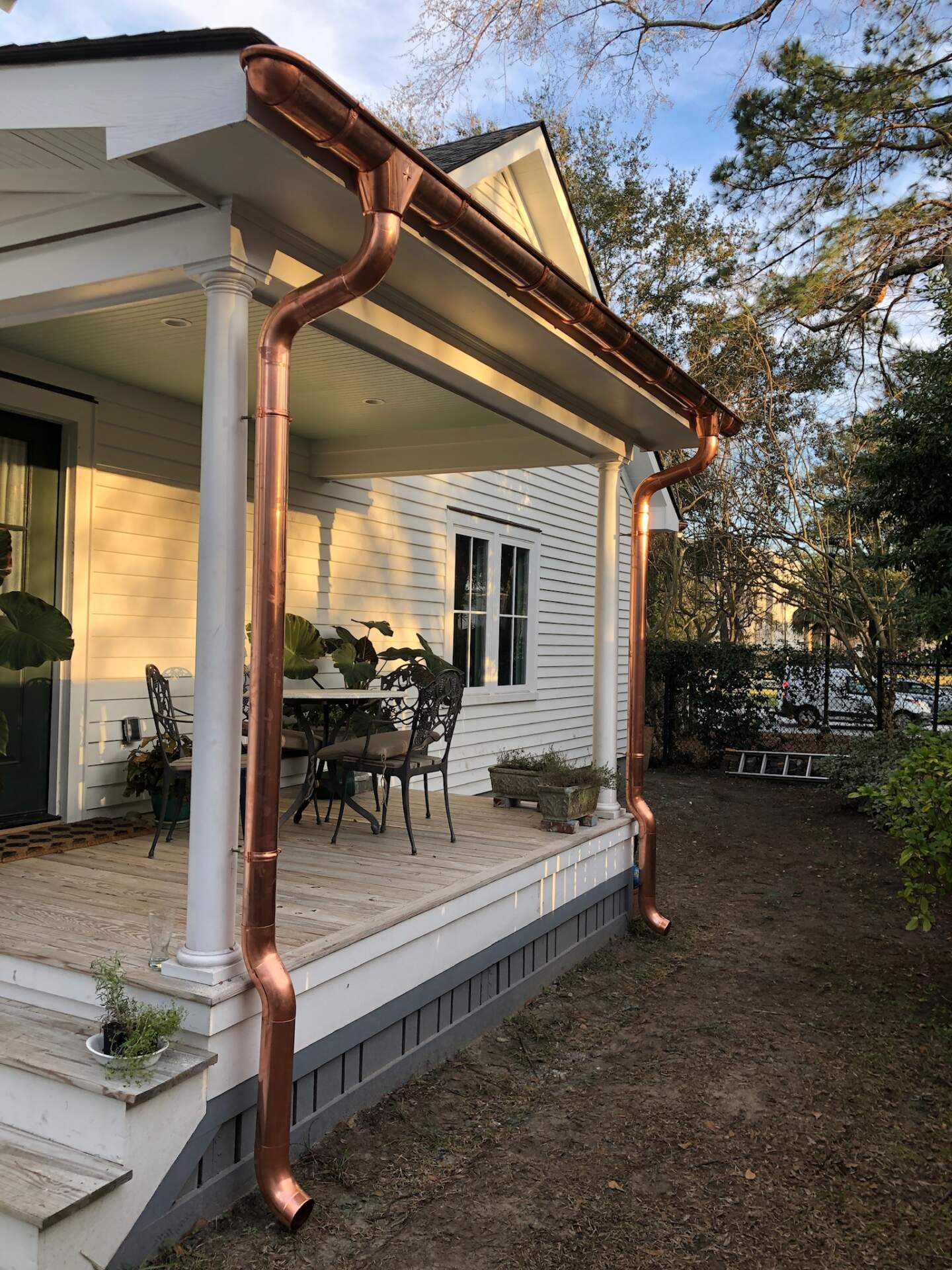 What about seamless gutters?
Aside from materials, there are also different types of gutters available. Unlike "traditional" gutters, seamless gutters are essentially one long piece of material that is custom-cut to your property's exact specifications and then wrapped in a continuous length around the home or building. This lack of seams means that water flows freely and is less likely to collect in small pockets, leading to more efficient drainage and improved durability.
Seamless gutters are more expensive than traditional rain gutters. However, due to their lack of seams, homeowners don't have to worry about vulnerable "weak points" where debris can collect and cause potential clogs or leaks. Seamless gutters can be made out of a variety of standard materials including aluminum, steel, or copper.
No matter what type of gutter you choose, it's important to make sure that they are installed properly and regularly maintained.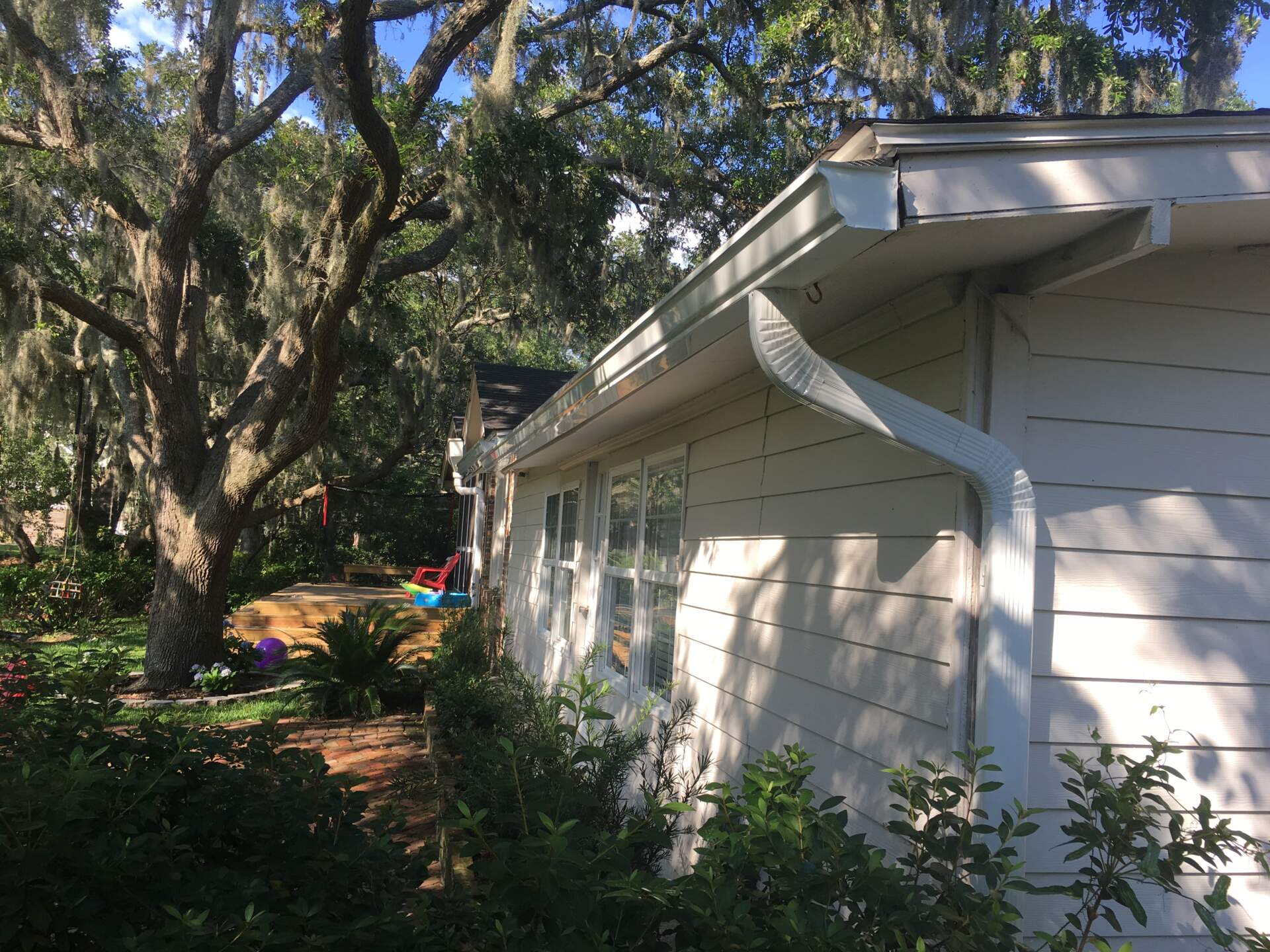 Which Rain Gutter Material is Right For You?
Rain gutters play an important role in protecting your home from water damage caused by storm runoff but there are many different materials available on the market today—each with its own unique set of pros and cons.
The right gutter material should be able to protect your home against rain damage while also complementing your home's exterior décor.
Ultimately, deciding which type is right for you depends on several factors, for example:
Budget constraints – Vinyl is often the cheapest option, and comes in many colors, but is the least durable
Cost analysis – Aluminum comes in many colors (like vinyl), but it is longer-lasting, while still being an affordable option
Local weather conditions – Galvanized steel is the most robust gutter material, for harsh climates
Aesthetics and longevity – Copper gutters are uniquely attractive and last the longest
We hope this guide helps you narrow down your options—consider talking to professional gutter installers if you need help deciding which type of gutter material is best for you and your property. The gutter installation experts at Holy City Gutterworks can provide valuable insight and help you make a decision that will best suit your needs.
Contact Holy City Gutterworks for help selecting and installing your new rain gutters. Give us a call at (843) 352-9269 or click here for a free estimate.